​
is all that stood
. . . against barbarism.
​
Another outbreak of such a crisis of madness
[meaning the First World War]
would necessarily involve the destruction of
society in the public order. June 1, 1933
​
​
People cried out
for a better future.
​
Germany neither intends nor wishes
to interfere in the internal affairs
of Austria or to conclude an Anschluss. May 1935
​
If the problem is solved,
there will be no further territorial damands
in Europe by Germany. Sep 1938
the swell of ocean
waves separated the U.S.
from Europe.
CASTLES OF THE MIND ... VENTURE ACROSS THE MOAT
The Anniversary of Garabandal




Sixty Years Ago from Cities to Countryside
This webpage is an anniversary of sorts, 1961-2021, filled with histories, scenes, and various events that were surrounded by a strange story highlighted by the fantastic episodes of 4 mountain kids, Conchita, Jacinta, Mari Loli, and Mari Cruz in a tiny village called Garabandal. Today's most renowned scientists cannot explain what happened, but this was the 1960s, and it is detailed a little down this page.
In retrospect, it brings to mind the idea that we too are entering a new decade, the 2020s, with new challenges.
​
Will the drumbeat be a sourpuss one of confusion or a keg of new times and better aspirations? If we look, we will find it, and hope the picture of COVID-19 fades forever.
​
​
Two of my favorite decades were of the 60s and the 80s, in case you haven't noticed. Let's explore before we continue.
Much of the electronics of the space age would not begin to reveal themselves until at least a dozen years or so forward from the start of each of these decades, in the form of something small, like a brand new handheld calculator or, to the wizardry and design of a Disneyland park. (For your information, the high school kids of the early 1960s were the last generation of students that did not have calculators. They were stuck to using hand slide rulers. A what? Thank God that was not me. Check it out on your google.) Dreams and hopes begin with youth. Your dreams and hopes start each day for a better tomorrow. Each of the above decades were different with people in new settings, technologies and styles, but each had faith and the guts to look forward, enough to work in some kind of unity that rendezvoused with destinies that made it better. Keep a weathered eye to see if our new decade brims with hope and shines—like the 60s and 80s— or, will it be cursed with the greedy and the malevalent? First is a 1963 Chevy Impala, then a fashion peak.
​
For now, let us travel to past settings.
Let us go back, to the 1961-62 era, employing a tiny component of a decade enormous in change. . . back in time, to when the Beatles and Michael Jackson were unknown, Disneyland was barely 6 years old and a whole new Disneyland was a step away, I was not yet in kindergarten, Hawaii had just become a fascinating state of the Union, civil rights sucked, and John Fitzgerald Kennedy just became President.
The 1960s, moreover, had no Blue-Rays or CDs, or home computer anythings. Computers of the sixties were large, with their hardware needing to occupy a massive room, whether they were in use for a business firm or NASA.
The Academy Awards bestowed the following for 1961: Best Movie, The Apartment; Best Actor, Burt Lancaster in Elmer Gantry; Best Actress, Elizabeth Taylor in Butterfield 8; Best Supporting Actor, Peter Ustinov in Spartacus; Best supporting Actress, Shirley Jones in Elmer Gantry; Best Director, Billy Wilder in The Apartment; Best Original Score, Exodus; and Best Visual Effects, The Time Machine (thanks Classic Movie Guy). These are just a few categories.
Here is an interesting, small sample of the top artists and hit songs of 1961: Mary Lou, Raindrops, Elvis Presley, Travelin' Man (courtesy: niekesje,Manny Mora, Elvis Presley + Classic Hits stereo). A brand new way to dance was the Twist. The Twist showing you how. Started in America, then became a worldwide sensation. Thanksgiving time '65, with mom and my brother. Author to the right.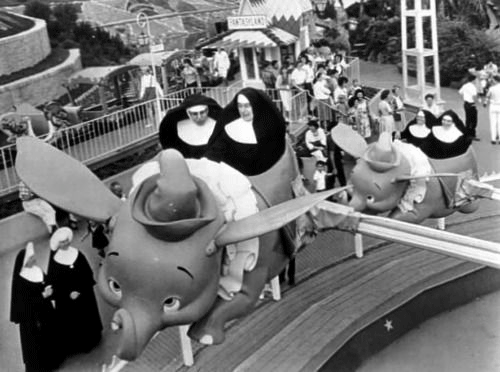 Speaking of the 1961-62 era, that was just 2 years away from the Olympics, when an unknown Billy Millls, a Native American, upset the world in the long-distance race of 10,000 meters, and ..., the domain of big change in social justice was struggling a year later, where it began in America.
The movements for humanity were filled with climatic scenes of change. Mid-decade, with God's grace, the fireworks of adversity, the evil of prejudice was slowly overcome, an evil gave way to peaceful marches and the dream of Martin Luther King, Jr, who left us too young: But, it all began with an idea.
No lie can live forever. "My eyes have seen the glory of the coming of the Lord...And, His truth is marching on." Freedom is central to the United States, and when given a better chance for individuals to make something of themselves, starts from the heart. Each generation can be remembered for something, despite paused by lies. We have a long way to go in this decade. What's it gonna be for you? A fascinating, better tomorrow or will division and divisiveness be the force of tomorrow?
In the early sixties, more cars ran on 8-cylinder engines from America's leading companies than anything else. Gas was about 30 cents a gallon, but in Los Angeles, sometimes smog was so bad, kids were kept indoors even during school time, ie. no recess outside. The theme of cleaning up America was still a few years away. Many thought, "ah, baloney, it is not that bad." Look at the picture. Do you think it was pretty bad?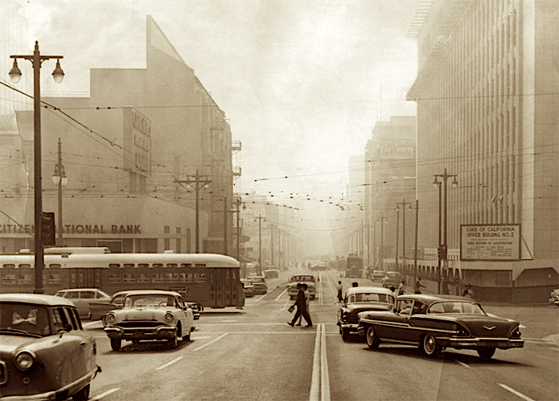 ​
I remember the skies would turn yellow. As a kid, I knew it was horrible if we were not allowed to go outside and play, because if we did, our eyes got all watery and they hurted.
An ice cream sundae was about 40 cents, a hot dog and a Coke for 49 cents, and if your father splurged the family on a double-deck hamburger w/fries, salad, and an ice-cream for dessert, it was for a dollar. The first rockets to space were Mercury and Gemini—then, Apollo. These things were all rather unknown to the villagers of Garabandal then, which was pretty backwards.
We had transistor radios, teflon, electric and non-electric typewriters. Although the history books say teflon was created by some scientist in the late 1930s, I remember my mom making a big deal about teflon in the sixties; teflon coated pans are now replaced by GenX and PFBS. This was the Age of plastics and aluminum, neon signs and rotary telephones, which by the mid sixties came in a variety of dazzling colors. Before the sixties ended, we had telephones with push-buttons. The 1960s is a long series of years, and as in any decade it changes in form from the start to the end. This change of songs compiled in Golden Oldies 1960s---will wonders never cease--is an effervescence of popular American History and popular culture of the young of many years ago.
Boy Scouting and camping were a big deal. I remember, I later had a GI-Joe. Summers were fun with Slip 'N Slide for young kids. Everybody who could afford a bike, rode one. In the later nineteen-sixties, my brother and I had a Schwinn-type bike with a white banana seat and chrome fenders that I shined a lot, until my wife threw it out; the big dummy, it would be worth a lot today. Looked like this one in this link except it had cool, whitewall tires, both tires had chrome fenders, a little light in the front encased in shiny chrome and a water bottle. Looking at downtown Los Angeles on 6th Street, very sharp trolley-buses.
​
I remember playing with erector sets, slinky, Gumby and 3-D View-Master sets. I simply loved the View-Masters, as I could imagine going to far-away worlds that spurned my imagination. They had tiny stereo Kodachrome color pictures but when looked behind a viewer were the forerunner to todays virtual reality, as they were in 3-D, and very, very cool.
A little
trivia on the GAF View-Masters
An amazing story to the View-Masters is of an inventor-designer Charles Harrison (below), unheralded designer from the School of the Arts Institute of Chicago and the Illinois Institute of Technology. Mr. Harrison (Chuck) redesigned the View-Master viewer that was introduced in 1958. The model before him was called the Model E. He designed the Model F, which used 2 C-cell batteries to power an internal light source to make the pictures come to life. I have an original model (mint). Fifty years later in 2008, Mr. Harrison won the Cooper-Hewitt Lifetime Achievement Award. Great designer, he was a distinguished Black American, and hardly anybody ever hears of him. These are a few pictures of my View-Masters which I still own, including the special lighted stereoscope with elevated handle and projector. View-Masters are a trademark of Mattel, Inc. Girls would play with Barbie and home-maker bake sets.
On a Saturday, July 1, however, about 60 years ago, four girls in a little village called Garabandal were given a message by an Angel. A story develops, known as the revelations of Garabandal, and it became cataloged as a historical existence by the author. Press on to discover the story of when Europe, 1961-1965, awoke and found itself in a story stranger than strange. The historical setting is well researched. Your setting belongs to a new decade. Will your new decade become interesting, too? In March of 1962, a mysterious letter arrived at the home of Conchita (below in light blue sweater) by post. It was addressed to the four seers but, unsigned. It mentions of a supernatural communication received by the sender regarding Garabandal, and was written in Italian, dated March 3, 1962. The sender's identity was soon discovered, giving rise to a close bond with the seers. Conchita would later go on to visit him. It was from Padre Pio, now a saint, of Pietrelcina (1887-1968). Conchita opened the letter. In various accounts it is said a Félix López, a seminarian from Bilbao, was present when she first opened it. It is not so. He was in contact, later.
In February of 1975, in an interview for the magazine Needles, currently Garabandal Journal, Conchita talked about her reaction to this letter. This is the text and information of the letter: in pdf.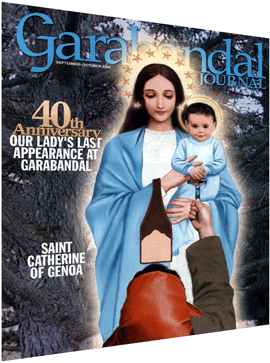 The following is from the"Pensamiento Alaves" which ran an interesting article by Dr. Jose de la Vega, telling of his visit to San Sebastian de Garabandal April 27, 1962. "Since June 18th last, the Blessed Virgin has been walking almost daily through the twisting streets of a little village….This is the claim of four little girls…." The entire village, with its bare seventy families, had been in a state of confusion for months. Once, or even several times, each day, at various hours, the children prayed with, talked and blew kisses to the Virgin Mary, while lost in a deep ecstatic trance.
"The Church has prudently refrained from giving an opinion. Even the most incredulous doctors finally admit that the goings-on defy logical explanation. But, day after day, thousands of believers hailing from distant parts arrive at the hamlet, fervent in their faith and tears of emotion in their eyes; and in their faith they find the sole explanation of this extraordinary series of occurrences that is lived over and over, night after night, in San Sebastian de Garabandal."
You will find a PDF (below) that takes you to 1961, as seen in the recently-released history book, Alert: For the Times, Book of Secrets. This is a nimble, sneak peak at my research, which contains official documents, Noticiaro-Documental, photos, the history of Garabandal. Furthermore, there is disclosed the historical parameter on Papa Papa. Note very carefully, as 70-80% of the links in this sample are working, live links. When you see a word in a purply color, press it, and it will wisk you to a link, if you are connected to the internet. [This is an added dimension to our story of Garabandal.] The extra educational videos below, are garnered together to describe what I believe really is a connection to Heaven, and which, unfortunately, there are those who wish you not to acquire knowledge of the true story. Time-lapse to 1965: June 19 (courtesy of Saint Joseph Publications). Pardon my observation, but this does not look like a Conchita from 1961, it is quite possibly '64 or as it says '65. All the hairdos of the girls are too long to be associated so close to June 19, 1961. I wish it were recorded with sound, but silent film was still a normal feature in home movies of the early 60s. Speaking about sound, there was a movie called The Singing Nun which I remember quite vividly. It was a wonderful MGM movie about a real nun from Belgium that in 1963 sang herself to stardom. Although I do not recall her in 1963, in 1966 I do because our sisters at our grammar school were from Belgium, and they took us to a theater to see the movie The Singing Nun, starring Hollywood star Debbie Reynolds. In the movie were three songs that not only were fabulous, everybody in the class was singing them. The record album The Singing Nun I still possess. On one side the songs are in English; on the other they are in French.
An excellent source of information for many young people of today will be this documentary, which was released only last year.
This is a three minutes introduction to the new movie, begins in Spanish but it is in English, with the title Garabandal, Unstoppable Waterfall. The actual full-length video is an exceptional collection of interviews and film clips. Too bad it came out when that dreaded COVID-19—the scourge of a lifetime—took hold of everybody's hearts and minds. This source has searched and provides eyewitnesses of the apparitions from the decade of the 1960s. They are still alive.
Garabandal, today (courtesy of Aurin Rodd).
Here is footage from when the first message of Oct. 18, 1961, occurred, in rare color, You think this is harsh weather? It not only rained, it hailed and snowed. Terrible for shooting film, but, the color shows through nicely. At 95 years old, before she passed away, is a marvelous but short interview with Mercedes Salisachs, who is in the digital book, Alert: For the Times, Book of Secrets. The village, period from the early 60s. This Spanish video is about the time when Jacinta saw the Sacred Heart of Jesus Christ on this road, with Alberto providing commentary. Our male narrator, different person, begins with describing the exact route where it all started for the four girls in June, on this very same rocky, uneven lane. Around the 2.01 min. mark we meet Alberto, who briefly describes Jacinta's July vision, as she told it to him. Sorry, the real Jacinta is not in the video. En Español, (advance 2.20 mins) for you diehards of history out there, 1 hour el fin de los tiempos (courtesy of Saint Joseph Publications; Virgendegarabandal; Saint Joseph Publications; Virgendegarabandal; and Garabandal : only God knows).
Two tips to remember:
In February of 1977, Conchita said the event of the warning begins with the letter A.
A Dr. Luis Morales, a psychiatrist and original member of the Garabandal investigations, retracted his prior information, surprising many saying that the Blessed Mother did appear in Garabandal; reported El Diario Montanés, May 31, 1983 edition.
The four seers were:
1. Mari Loli Mazón (b. May 1, 1949–died, April 20, 2009)
2. Jacinta González (b. April 27, 1949)
3. Mari Cruz González (b. June 21, 1950)
4. Maria "Conchita" Concepción González (b. February 7, 1949).
.
excerpt from Alert: For The Times
PDF
Your information is protected by
256-bit SSL encryption.